Amichand Rajbansi (14 January 1942 – 29 December 2011) was a South African politician. He was a former Chief Minister of the House of Delegates Tricameral parliamentary chamber for Indian people, and leader of the Minority Front.
Amichand Rajbansi, nicknamed the Bengal Tiger, was born in Clairwood, Durban on 14 January 1942. He attended Clairwood Secondary School and the Indian University College to study History and Psychology as major subjects.
After a long service as a sports administrator, professional soccer referee, civic leader, and serving in local government structures dealing with local affairs, Rajbansi was elected to the South African Indian Council in 1974. This council was rejected by most Indians. In 1976 Rajbansi resigned from the Indian Council protesting the inter Cabinet council[clarification needed] between the Indian Council and government cabinet of Prime Minister John Vorster. In 1981 he formed the National People's Party (NPP) and was elected leader of this new party. The NPP successfully competed for the election to the South African Indian Council and took control of SAIC, although only 6% of the Indian electorate participated in the 1981 elections for the Council.
Indondo Award 2018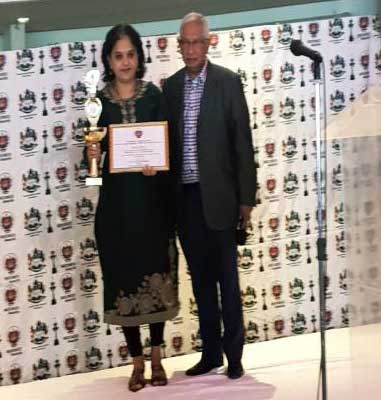 On Saturday 10th of November 2018 Mrs Shameen Thakur Rajbansi, Leader of the , received the Indondo Award on behalf of her late husband Mr Amichand Rajbansi, former leader of the Minority Front, at the Golden Horse Casino.