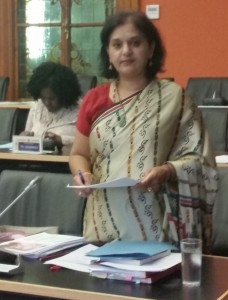 Minority Front Leader, Hon. Shameen Thakur-Rajbansi introduced the Minority Front Party motion during the Parliamentary sitting at Pietermaritzburg City Hall, 21st June 2016. The MF motion debated was in respect of safe motherhood in South Africa.
Hon. Rajbansi also emphasised on the importance of the Millennium Declaration, in 2000 that gave birth to eight Millennium Development Goals. She further stated that maternal health care is a priority reproductive health issue, and that the National Department of Health has made maternal deaths a notifiable condition by establishing of the National Committee on Confidential Enquiry into Maternal Deaths (NCCEMD).
She also stated that the welfare mothers' of a country have profound development impacts and by reducing the MDG5, this will contribute to the achievement of almost all the other six MDG's, such as, poverty eradication and hunger; achieving universal primary education and reducing child mortality. Hon. Rajbansi further stressed that healthy mothers' allow a country to maximise it's available human capital which in the longer term, can assist in reducing poverty. Maternal Health proves to be a key indicator of the strength of a country's health system; providing early warning signals of wider health systems problems.
Cost-effective interventions was a recommendation by Hon. Rajbansi , as this relates to human capital investment through defined norms, standards and operational plans for, human resources, equipment, effective referral, capacity-building and support for provincial and district managers. Skill challenges encountered by maternal healthcare workers and the medical negligence claims that threaten the future of National Health Insurance is worrying because a recent study even showed that patients are at risk because surgery supervision is lacking.
The leading causes of maternal deaths remain the same top five, namely, due to haemorrhage, pregnancy-related infections, hypertension, anaesthesia and HIV. Contributory factors also remain the same, hence now there must be change, as SA has run out of time and the UN has moved onto Sustainable Development Goals, said Hon. Rajbansi.
Most maternal deaths are preventable through adequate nutrition, proper healthcare, access to family planning, presence of Skilled Birth Attendants (SBA) during delivery and emergency obstetric care. SBA's should be the focus because at a community level, the SBA will often be the only qualified and accredited Community Health Worker (CHW) with exclusive responsibility for the care of women during pregnancy, childbirth and the immediate postnatal period, said Hon. Rajbansi.
The Minority Front Leader concluded her debate by saying that investments in quality of care be prioritised and the skilled birth attendant reclassification is imperative for a country like S.A. with high MMR. "We must use applied assessment tools as indicator sets to measure quality aspects of SBA concept, classification and roles in different levels of health facilities for conformity of application, as NHI is rolled-out, with a focus on special Maternal and Child Health Hospitals to achieve the broader objective of reducing Maternal Mortality", said Hon. Rajbansi.
DETAILS
Debated by: Hon. Shameen Thakur-Rajbansi
Minority Front Leader (KZN Legislature)
Date: Tue 21 Jun 2016
Word Count: 0 Words