MF Leader On Honouring The Aged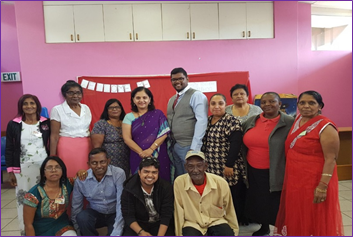 Mrs. S. T. Rajbansi at the Shastri Park Senior Citizens  function with Minority Front members and members of the organisation
Mrs. Rajbansi  said maintaining the dignity of our aged is  a significant concern for us who now face issues for family elders. We too will later face these same issues in coming years. She also mentioned that providing dignity and respect for our aged is an integral concern for us all on a daily basis.
Mrs. Rajbansi stated that we can honour our aged by listening carefully to them and  include them in making decisions as their experience is vital. "Affording respect makes our elders more happier and secure in the sense that their permission and extending courtesies to them gives them a sense of belonging. The experiences that the elderly have makes them feel appreciated for their unique viewpoints. Also, the physical problems the aged may have requires our understanding and assistance as we will, oneday, experience similar problems and we will expect the same, added Mrs. Rajbansi.
Mrs. Rajbansi further stated that we can honour our aged by not being party to the psychological and physical abuse by bullying, neglect, humiliation and financial abuse. Sexual abuse and abusing through ignorance is also a huge concern.
Mrs. Rajbansi said that we must appreciate the life experiences that our aged can instil in us, and mentor us to become decent and good human beings.