MF Leader Meets New Public Protector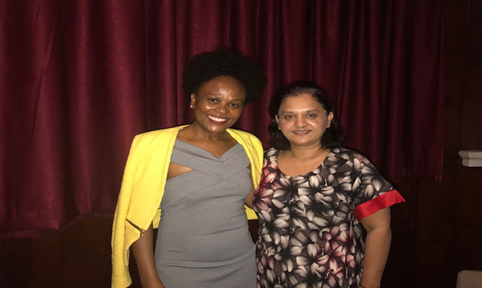 MF Leader, Mrs. S.T. Rajbansi meets Public Protector, Advocate Busisiwe Mkhwebane
Mrs. S. Thakur-Rajbansi, leader of the Minority Front met the newly appointed Public Protector at the Kwazulu-Natal Legislature.
Advocate Mkhwebane addressed the Legislature as part of a four-month, 18-town tour called the Public Protector Stakeholder Forum 2017. This roadshow has been themed " Broadening Access – Taking the Public Protector to the Grassroots.
In her introductory address, the Public Protector also outlined the aim of the roadshow to engage with government leaders, including political office bearers, senior bureaucrats, political parties, civil society and the general public at grassroot level.
She reiterated the mandate of her office in terms of the legislative prescripts and the equally important mandate of accessibility to all persons and communities. Her vision for the institution was clearly pointed out with the emphasis being on an intensive awareness campaign.
Her address provided a comprehensive status of cases in the province and her office's methodology followed to finalise some of the issues, and the solutions proposed to avoid future recurrences.
The process for expediting investigation was explained in terms of the cooperation agreement signed with the province in 2013.
Advocate Mkwebane pointed out that the measures instituted by her office was to unblock the bottlenecks which are generally associated with delays in bringing investigations to finality.
Mrs. Rajbansi will meet the Public Protector, on invitation to discuss people's concerns in various constituencies.