Community Leader Addresses Crime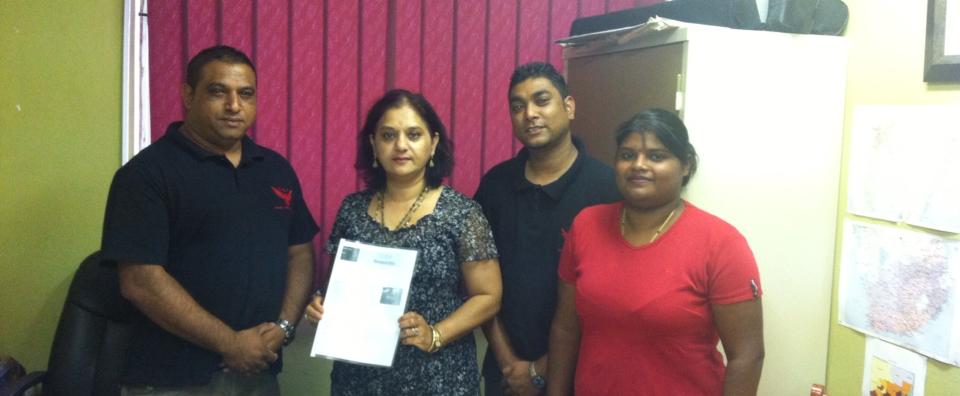 Leader of the Minority Front, Mrs Shameen Thakur Rajbansi recently meet with Community Organized Policing members to discuss issues of crime in the Phoenix area. The organization, which is situated in Clearhaven, the heart of Phoenix services the sector Four Community. These areas are commonly referred to as "high risk areas".
Mrs Rajbansi stated that the Phoenix community has become a soft target for brazen criminals who have no regard for the safety of society. Statistics show that crime is reaching rampant heights in this area and there are too few apprehensions and prosecutions. Police have limited resources and are sometimes plagued with too many incidents and to address at once. The need then, for community policing organizations and forums have become of paramount importance. Communities must join forces and unit against these heinous crimes that rob our communities of dignity and safety. We cannot stay silent while our daughters are being raped and sons are being lured to substance abuse. We cannot remain fearful and timid. The time has come for communities to condemn these social evils by participating in operations that will disband criminals and their accomplices. However we must do this within the ambit of the law in our country."
Sean Naidoo chairperson for the COP group said that "Phoenix has become a haven for rape, murder, robbery, hijacking and other serious crimes. These are every day features in our community. This has created fear, restlessness and a general decline in social and economic development. Families are not only robbed of their hard-earned possessions but of their siblings and parents through senseless murders and malicious crimes. Our organization is here to assist in eradicating this type of indecency with the support from our communities and police."
Persons who are willing to assist in this programme can contact Sean on 031 8256436.