Youth Parliament 2018: Living The Legacy Through A Socio – Economic Empowered Youth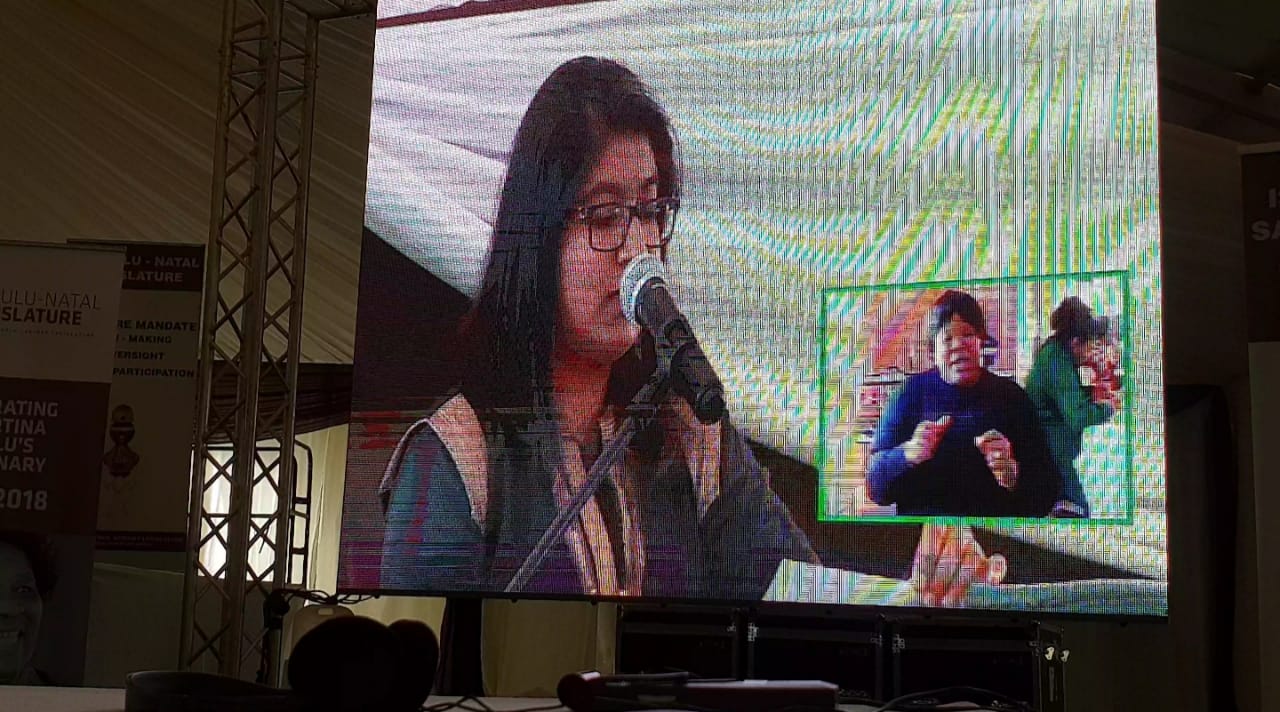 Honourable members and all political protocols observed.
The Minority Front believes that the future prospects of born-free youth looks bleak but can be turned around by our inputs.
South Africa's concept of youth development is influenced by historical conditions that have shaped our country and its democratic goals.
The National Youth Development Policy (NYDP) 2020 responds to the social and economic forces that shape global and regional developments in the 21st Century, aligning the development of young people with government's approach to address poverty and underdevelopment. Is this policy working fast enough? No.
Youth development institutions,such as, the National Youth Development Agency should be addressing the many issues faced by all South African Youth today, however it has failed due to poor performance. These institutions need to have the thinkers, with clear direction, who are transparent in synchronizing programmes and activities for all youth. If this is not done, then social cohesion amongst born – frees will be lost.
Young people are the biggest catalyst for development, often acting as key representatives for social change, economic expansion and innovation. Hence, all youth must be targeted to actively participate and engage in societal matters. The third leg of the National Development Plan 2030, states clearly that an active citizenship is imperative, for our future economy to represent a better socio – economically empowered youth.
The South African Constitution says on each right, that it is a realisable right if resources are available. With the bulging youth population we can achieve this only if, the youth are mobilised and equipped to help drive the integration, peace and development agenda. We must all recognise and utilise our youth as an effective resource because South Africa has an evolving economy which calls for a very skilled labour force to increase economic growth. In order to accomplish this objective, post school education and training sectors need to improve equity in access and quality of education outcomes. The policy and funding options as per Professor J. Janssen, is discussed extensively as a fee – free plan only for the have – nots which is practical. However, the mediocrity of our public school system is hurting our university gradings.
If our educational qualifications are doubted, each one of us, has no future. Our government needs to come up with a 10 point plan for the social, economic and educational plan for our youth. Only in this way, can the NDP and SDG 2030 visions be achieved.
The vision and commitment to address the needs of an increasing youth population, means addressing national and global challenges and young people as a key population segment need to be empowered, prioritised and anchored to become strong and accountable leaders, as well as, a global asset for development. More has to be done in health awareness on disease prevention, contraception and family planning for the youth.
Of interest to the members of the public would be that, the incubator programmes and public private partnerships to enhance skills development among the youth population is vital. This will increase the number of youth in the job market and decrease the international migrant population in our job market. However, the issue of young immigrants coming into South Africa, unregulated is a cause for huge concern because this congests the informal sector, apart from the surge of social ills we are faced with, currently.
The Minority Front recommends the following which speaks to the theme: Living the Legacy through a Socio – Economic Empowered Youth:
The national parliament must come up with a 10 point plan for each of the following:
Making the economy more labour intensive by expanding the secondary manufacturing sector; promoting start – ups, improving the ease of doing business for small companies and changing the Labour Relations Act when it comes to manageable wages and improving the BEE Legislation for providing learner ships to inexperienced youth,
Promoting immigration reform where South African Youth who have been displaced from our universities and forced to study overseas must be allowed to come back to assist with our skills shortages, thus requires stream lining immigration application processes online, government using independent recruitment organisations to source and replace required skills and to amend our policies to provide jobs for these patriotic young South Africans,
Reforming basic education and strengthening vocational education, we need to make grade RR compulsory, so that, we improve literacy and numeracy with a new national assessment that can provide quality outcomes at matric level, so that, the youth going to tertiary institutions are not blamed for the current negative shifts in campus cultures, such as, lowering academic standards, growing intolerance and anti – intellectualism that is threatening the foundations of our universities and technikons,
Implementing land reform more effectively, the Minority Front does not support the change in clause 25 of the Constitution but believes that we must strengthen the land restitution and security of tenure by amending the respective policies and or legislation. We need to ensure that young South Africans must be given the first opportunity for government social housing in the categories of physically challenged, indigent and middle – income
Finally, as per the NDP 2030, for social cohesion and nation building every government programme has to include youth to develop youth of all race groups.
In conclusion, as per the Preamble of our Constitution, South Africa belongs to all who live in it but more importantly all who have been born in it. We are indigenous South Africans and our rights must never be violated by elitist political parties. In the run – up to the 2019 elections our government must ensure that from now on every born – free is automatically a registered voter. Voting is a free right not a choice if the youth have to play a meaningful role in the next 12 years to ensure that South Africa realises the vision of NDP 2030 and achieves the 17 Sustainable Development Goals of 2030.
With these words Hon. Speaker, the Minority Front congratulates the leadership in the Kwa – Zulu Natal Legislature for holding these sectoral parliaments, as public discourse remains the responsibility of all leaders, young and old to shape the destiny of our beloved country, South Africa.
Thank you