MF Leader With Mickey From Flash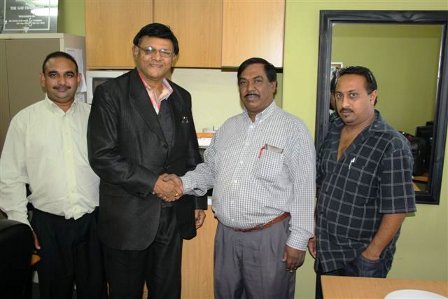 Minority Front leader, Mr A. Rajbansi and MF Cllr. Shane Hansraj with the Nagara Grand Master Mr Mickey Kelavan and his team-mate, Raj Udith, complementing Mickey, the Grand Master, for his honesty and integrity after anonymous pamphlets were circulating besmirching the good name of the Great Nagara Maestro.
Mr Rajbansi says that he had a thorough discussion with Mickey who confirmed the Flash Entertainers cc belongs to him and he had made 4 DVDs and the money is safe and he has pledged to take his team to India.
Mr Rajbansi said that it is only fair that if there are any "Judas" in Mickey's ranks then the Judas must be identified and must not be taken to India.
Mr Rajbansi says that he has tremendous faith in Flash Entertainers and the Leader Mickey Kelavan.