MF Sponsors Youth Sports Development For The 2017 Hillview Easter Soccer Tournament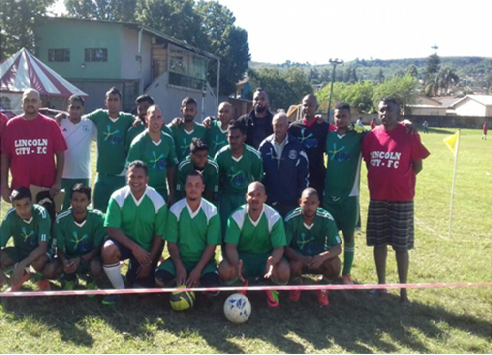 Officials and players of Lincoln City Football Club sponsored by the Minority Front
The Minority Front attended the Hillview Easter Tournament on Saturday, 15 April 2017 at the Hillview Sports Grounds in Newholmes. This tournament is an annual event on the Pietermaritzburg soccer calendar.
MF Leader Mrs. Thakur-Rajbansi stated that soccer and sport in general is a unifying factor which was reiterated to officials and the team. The camaraderie of the players was heartening as well as the talent of the players on show. The commitment of the officials and players is commendable, and their dedication to the club is unwavering considering the lack of finance.
The MF's belief is that by promoting and developing youth to participate in sports changes their mind-set and negates social ills such as drug abuse and keeping bad company.
The officials acknowledged the assistance of the party over the years with gratitude and heart-felt thanks.
Mrs. Rajbansi encouraged the officials and players to persevere with their goal of turning the club into a successful and respected club.