MF Leader Wishes A Happy Maha Shivaratri!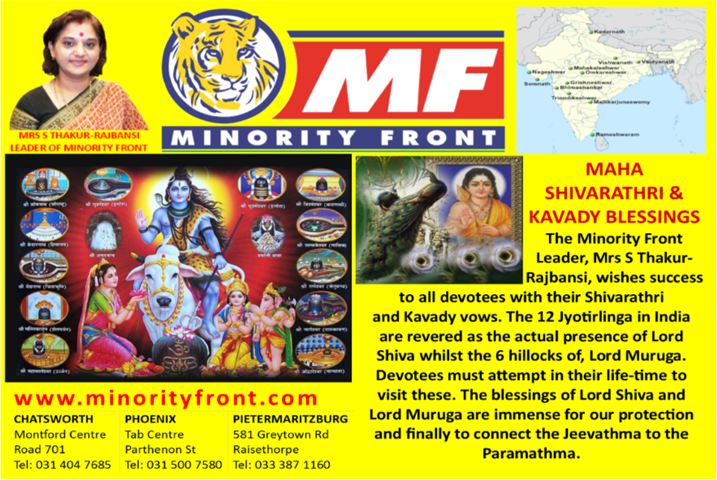 17th February 2015, Mrs Shameen Thakur-Rajbansi celebrated Maha Shivaratri by giving discourses at many temples on the Secret of Lingeshwara and the ability of human beings to imagine the formless through a form.
Mrs Rajbansi said, "The ultimate goal of human imagination is for the destruction of Maya through the mercy of Panchmuki (5 headed) Shiva and the obtaining of moksha .Once we as human beings are free from the fear of death then only can we achieve immortality and lord Shiva destroys this 'maya' for wanting to live in a material world where everything is temporary by embracing death with faith and realisation of him; thereby giving us the permanent abode of immortality Shiv lok".
She continued to say that, "There are 14 universes according to Vedic text and at the time of death a Hindu gets liberation by remembering the supreme who can free one from the hands of Yama the God of death; hence Lord Shiva is called Yamantaka ; one who frees you from death like he did for Markendeya".
"We meditate on the Shiv Linga and through this form remember the formless pure one ; lord Shiva".
"Mahashivratri celebrates the marriage of Lord Shiva to Mother Parvati who through Shiv Shakti makes it possible for the indifferent Lord Shiva to become compassionate and give mercy to all living forms who need freeing from the cycle of life and death so that we can enjoy eternal bliss in immortality with the Lord".
Mrs Shameen Thakur Rajbansi wished all celebrating Hindus a Happy Maha Shivaratri and that Lord Shiva blesses them.