Minority Front Assists with Indigent Application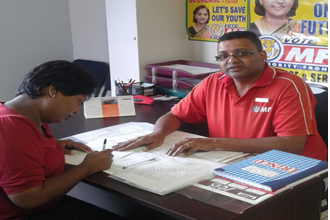 The Minority Front appeals to invite all residents of the Pietermaritzburg and surrounding areas who are experiencing economic hardships to visits our Pietermaritzburg Constituency Office at 581 Chota Motala Road to apply for the Indigent Grant.
The Indigent grant is a way of our positive transformation plan in South Africa to take care of the needs of the poor in these tough economic times. This grant is only available to individuals or households that earn R3500 or less. The Indigent grant can help residents who are also tenants as well, to pay up their rental and cover necessary basic living costs. A copy of the lease agreement will be required for this.
There is a specific criterion that will allow you to apply for this grant; you will need to bring in your Identity book, salary slip, and proof of income and expenses together with bank statements.  It is possible for applicants to get a rebate on electricity, rates and have other basic services free. The necessary checks will be conducted on applicants to verify correct the information is supplied.
The Leader of the Minority Front, Mrs Shameen Thakur-Rajbansi appeals to affected people to visit our offices to fill in an application or for further information. The Minority Front strongly believes in No poverty/ Zero hunger, Good Health and well-being, together with Gender Equality through good quality education.