IEC Visits Minority Front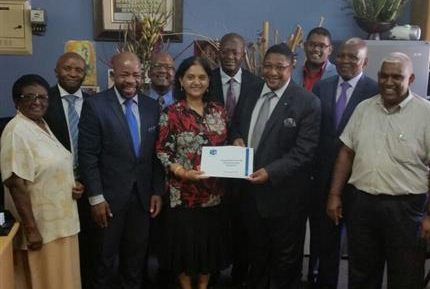 Seen in the picture is the IEC (national), MF Leader, Mrs Shameen Thakur Rajbansi, former MP, Miss S Rajbally, Cllr M Dasarath and MF Youth Leader Jonathan Annipen
On the brink of the 2016 local government election, the Independent Electoral Commission visited the Minority Front at its Provincial Constituency Office. The office was a hive of activity with Minority Front Leader Mrs Shameen Thakur Rajbansi conducting various engagements. As part of the preparation for the up-coming Local Government Elections, the IEC indicated its readiness and pledged to yet another free and fair process.
Discussions surrounded the National Voter Registration weekend set for the 5th and 6th of March 2016.Minority Front Spokesperson and youth Leader Jonathan Annipen encouraged persons 16 years and older to register to vote saying, although one can only exercise the right to vote at age 18 the idea is to inculcate this attitude so that individuals have time to investigate and develop opinions of political parties.
"I am making an appeal to all youth to register to vote. Registered voters, who have since the last election in 2011, moved house will have to re-register if they have moved into other wards ;they may even have to change voting stations if they have moved within a ward. Therefore voters must check if they are on a voters roll within a voting district because this is a local government election.
Youth can only become politically conscious if they start by registering to vote and what better time to do so than now," said Jonathan Annipen.