MF Warm Hearts During Winter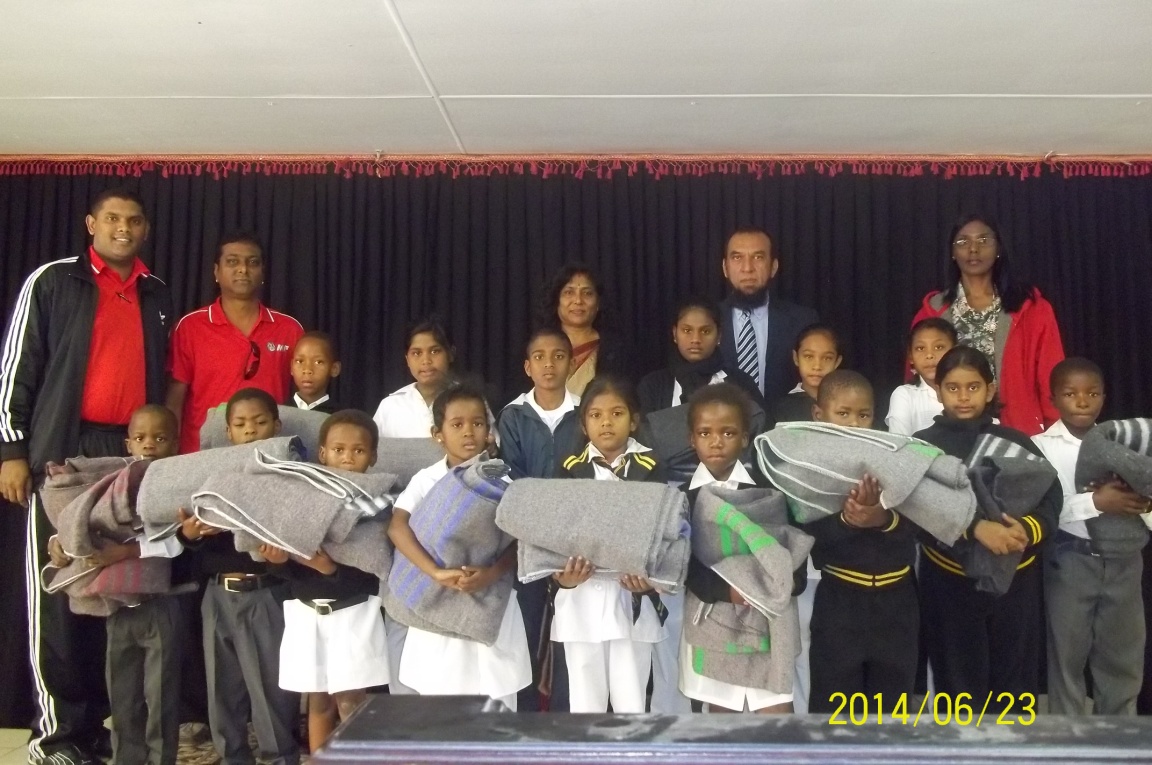 Seen in this picture is the Minority Front Youth Leader, Jonathan Annipen, Ward 52 bi-election candidate Neresh Maharaj Principle Mr I A Buckus and HOD Mrs K Reddy as well as learners of Allingham Primary School.
The Minority Front Youth Association is engaging in a blanket drive and will be distributing blankets to learners in various schools throughout the province. This is a part of a series of youth month activities played out by the association. Minority Front Youth Leader, Jonathan Annipen along with the Minority Fronts Ward 52 bi-election candidate Neresh Maharaj, recently visited Allingham Primary School where they handed over several blankets to learners as identified by the school.
"As an association we are concerned about the well-being of our children, many of whom do not have the luxury of a warm blanket during this winter. We are always engaging in huge activities show-casing young person's talent in an effort to commemorate youth month, but we changed our approach this year. We decided to be more practical in our efforts by distributing blankets to children to show that we really do care about their well being. This commences a series of such activities that will take place around the province."
Ward 52 bi-election candidate, Neresh Maharaj, who is also a sponsor of this programme said "I am delighted to be a part of this programme. Charity and benevolence must being at home and we appreciate the initiative of the youth association."
Leader of the Minority Front Mrs Shameen Thakur Rajbansi said she was proud that the youth leaders have rolled out this programmed, "We have always instilled, in the youth that we train, that it is important to be charitable and take care of our community. This proves that our young people have caught our vision and that they have the interests of our communities at heart. I want to congratulate the youth leader and his team for the excellent work that they are doing in promoting youth development in this way," she said.
Mr Buckus, principle at the school, said he was elated that his school was identified and as a school they appreciate the benevolence programmes of such organizations.